Velux Skylights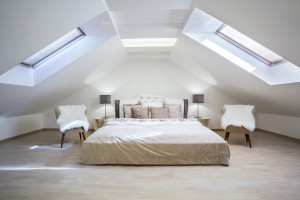 You can add a new warmth and brightness to your home a Velux skylight from the leading local experts on skylights and roof repair — Howard Roofing. We are factory trained in the proper installation of these beautiful products, and our experienced design consultants can work with you to find the size and shape that best fits your home. Just think, one call to Howard Roofing and you could be gazing up at the night sky from the safety and comfort of your home.
A skylight cannot only add a unique viewpoint into the outside world, it can also make any room in your home seem larger and more inviting. If adding on to your home is not an option, but you want to have a warm, inviting room in your home, a skylight can provide that effect. Here at Howard Roofing we believe that every homeowner should live in his or her dream home, and hiring our expert staff to install a skylight is a cost effective way to make your dream into a reality.
Even if your dream for your home is as simple as a lower energy bill every month, a skylight can help turn that dream into a reality. A skylight will increase the amount of natural light that your home takes in, allowing you to turn off your interior lights during the day and save. They are also manufactured to block the majority of UV light that tries to enter your home, protecting your furniture and other possessions from fading due to the caustic effects of the sun's rays.
Want to learn more about Velux skylights? Give us a call or fill out our convenient online contact form to schedule your free, no obligation consultation!
FREE Estimate on Roof Repair for St. Louis, MO Area Homeowners
To get started on your roof repair project today, give Howard Roofing a call at (636) 333-1690 and schedule a free in-home, no obligation consultation with the leading local source for skylights and roofing from St. Charles, MO to St. Louis, MO and beyond!