Roofer Serving the St. Louis Area Since the 1960s
Since the mid-1960s, Howard Roofing has been helping local homeowners in the St. Louis Metro area of Missouri and Illinois improve the beauty, comfort, and value of their homes. Specializing in the design and installation of advanced roofing systems. We also offer a wide range of top-quality services, each one performed by highly skilled and trained professionals.
Bobby Howard, Founder of Howard Roofing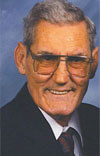 Bobby Howard founded Howard Roofing Company in the mid-1960s, providing quality work at a fair price. As the owner, Bobby Howard was proud to be in a position where he could provide honest prices and inspections, repair the roof, and save customers money.  He employed only skilled craftsmen and implemented strict quality control. Since founding Howard Roofing, the company has become a trusted name for generations.
Gary Howard, President / 2nd Generation (with Mike Howard / 3rd Generation)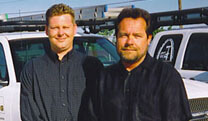 After Bobby Howard retired, his son, Gary Howard, took over the company with 16 years of experience in the roofing industry already under his belt. Gary grew the company to new levels while keeping the same ethics as his father.
In 1987 we incorporated Howard Home Improvement and Howard Roofing Company so we could offer roofing, siding, soffits, fascia, windows, guttering and doors. We also offer interior repairs and painting as a result of damages from the older roofs.
Since offering our services to the insurance industry, we are one of the most recognized and referred St. Louis roofing companies in the metro area. Howard Home Improvement is a preferred roofer with State Farm and American Family Insurance. And, we already have the next generation on board to carry us into the future!
We Get Better & Better Each Year!
Howard Roofing has been in business for more than 45 years, due to our commitment to consistently bettering ourselves.  This strong commitment sets us apart from other roofing contractors. Each year, our staff undergoes a wide range of training in specific areas of our field. This training has included CertainTeed Select ShingleMaster™, Owens Corning® Best Care Roof Practices, and GAF Master Roofing Contractor classes, to EPA – Lead Safe Certification and TITAN Environmental Services training.
Roofer Committed to Our Local Communities
You don't spend 45+ years working in one region without the support of the local communities. In order to give back to those communities and those homeowners who have supported us for so long, we have worked with several local organizations, including the following:
Chamber of Commerce
Community Associations Institute
St. Louis Apartment Association
Disabled Athlete Sports Association
The Leukemia & Lymphoma Society™
We are a local business that has grown from a one-man operation to a company with more than 50 employees right here in the Greater St. Louis area.  When the time comes to improve your home, you can count on us to be fair and honest and to use only the highest quality roofing, siding, gutters, windows, and skylights.
Get a Free Estimate Now
To get started on your project, contact Howard Roofing & Home Improvements today at (636) 296-1057, or fill out our online form.