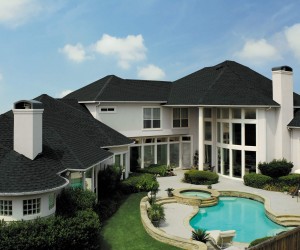 When you turn to Howard Roofing in St. Charles, MO or St. Louis, MO for a new roof, you'll be able to choose from the widest selection of roofing types in the area.
Here is a look at each type of roofing we install at Howard Roofing. We encourage you to give us a call or fill out our convenient contact form to discuss each style with our local roofing experts.
Residential Roofing
Homeowners have many choices today when it comes to replacing their roof.  There are many shingle types, looks and prices.  We can help you choose what is best for your home, taste and budget.
Asphalt Shingle Roofing
Still the most popular choice in America, asphalt roofing is one of the more traditional roofing materials we offer. In certain circumstances, asphalt roofing can be installed over an existing roof of asphalt shingles, eliminating the need for a costly removal of the existing roof. We install asphalt roofing from the producers of the highest quality asphalt roofing in the country.
Fiberglass Roofing Shingles
Fiberglass is a tough and resilient material that is non-porous, does not change shape, and won't dry out. Fiberglass shingles are a relatively new roofing material and can be a more cost-effective alternative to traditional felt mats roofing systems. They are similiar to asphalt roofing materials but but provide better quality, higher durability and are eco-friendly because fiberglass and other asphalt products are recyclable.
Architectural Roofing Shingles
Also known as laminated or dimensional shingles, architectural roofing shingles are one of the highest quality roofing products available. Architectural roofing shingles provide a  three-dimensional appearance resulting in a much more refined look. Traditionally, they are composed of a heavy fiber glass mat base and ceramic-coated mineral granules that are tightly embedded in carefully refined, water-resistant asphalt.
Commercial Roofing
Roofing requirements for businesses and office buildings of all types have different requirements and different regulations.  We offer the best commercial roofing products and service and have the years of experience and satisfied customers to prove it.
Built Up Flat Roof
Built-Up Roofing (BUR) offers 4 main benefits:
Multi-Layer Protection: multiple layers of bitumen provide a water-resistant barrier that can provide years of protection from the elements.
Thermal Performance: Built-up roofing systems provide a significant reduction in heating and cooling costs thanks to exceptional heat conduction resistance between the exterior and interior of a building.
Fire and Uplift Resistance: Built-up roofing systems meet very strict fire resistance requirements and uplift resistance requirements associated with extreme wind conditions.  Built-up roofing systems are tested through Underwriters Laboratories and FM Approvals to achieve the required standards.
Economy: Compared to other high performance commercial roofing systems, built-up roofing is one of the best investments on the market due to its competitive cost per year of expected service life.
EPDM and TPO Roofing
EPDM and TPO Roofing Membranes: These single-ply roofing systems have become increasingly popular in recent years thanks to their durability against weathering and the potential energy savings that they provide.
Modified Bitumen
Modified Bitumen: A blend of modern technology and time-tested roofing methods, polymer modified bitumen membranes are attached to the roofing substrate with hot asphalt, forming a strong, durable protective layer.
FREE Estimate on Roofing for St. Charles, MO Area Homeowners and Businesses
To get started on your roof replacement project today, give Howard Roofing a call at 636-296-1057 and schedule a free, no obligation consultation with the leading roofing contractor from St. Louis, MO to St. Charles, MO and beyond!