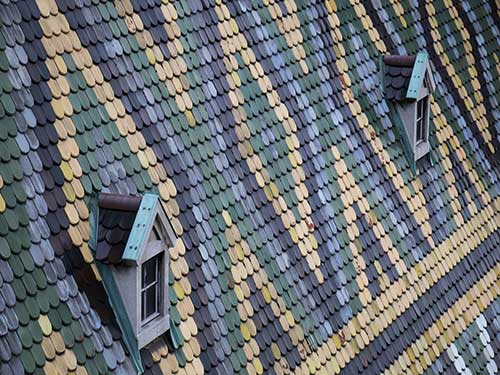 At Howard Roofing, we offer a wide variety of styles of windows for St. Louis, MO area homeowners to choose from when they turn to us for window replacement. Our experienced design consultants have worked in the Greater St. Louis area for most, if not all, of their careers and understand what local homeowners are looking for in a window. If you turn to us for replacement windows in St. Louis, MO or any of the surrounding areas, we'll help you to find the window or windows that best suit your home.
Here is a brief look at each style of window we install:
Bay Windows
A large, angular design made up of three or more windows, bay windows offer a wide view of the Greater St. Louis area outdoors. We often suggest adding a window along with your bay window for a nice seating area in your living room or den.
Bow Windows
Like bay windows, bow windows are made up of three or more individual windows and are perfect for the living room or den. Unlike bay windows, the design is less angular and more fluid, offering a unique exterior architectural feature.
Casement Windows
Casement windows are among the leading choice for windows in our area thanks in large part to their energy saving and ventilation benefits. Easy to use and simple to maintain, casement windows are a great choice for above cabinets or counters where opening requires a reach.
Double Hung Windows
A traditional choice across the country, double hung windows are a great choice for any room in your home. Their tilt-in design makes cleaning a snap and the increased ventilation created will save you money on energy in the warmer months.
Sliding Windows
Sliding windows are designed to glide along their track at the touch of a finger. The sleek, slender design makes gliding windows perfect for exterior walls that oversee walkways, patios, or decks.
Picture Windows
The perfect fit for large window openings, picture windows will be a featured architectural aspect of your home. Made by combining different window styles into one, new picture windows will transform the look of your home, and are usually installed in the living room, den, or bedroom.
Specialty Windows
If one of our more traditional window styles doesn't quite fit your home décor, we also offer a full selection of specialty geometric windows. When you turn to Howard Roofing, we will find the right window for your home.
Call for a FREE Estimate on Replacement Windows for St. Louis Area Homeowners
To get started on your new windows project today, give Howard Roofing a call at (636) 333-1690 and schedule a free in-home, no obligation consultation with the company that has been a leading source for windows in St. Louis MO and the surrounding areas for more than 45 years.