Summer is here and with it comes the heat. This is the perfect time to increase your energy efficiency, prepare for the autumn months ahead, and make your home more appealing. Make your home a better place through three great summer projects.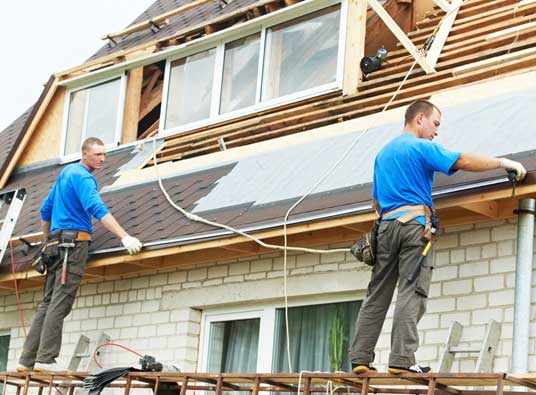 Cool Roof
Air conditioning use is on the rise because most homeowners want a cooler and more comfortable home this summer. Did you know that you might be paying a higher energy bill than you should? The culprit could be a roof that is not energy-efficient. Instead of allowing the sun to heat up your attic, an energy-efficient cool roof can reduce your energy expenditures by reflecting the sun's heat away from your home.
As a certified SELECT ShingleMaster™, we offer CertainTeed's strongest warranty and their entire range of products. This includes their Landmark Solaris™ PLATINUM shingles. These solar reflective asphalt roofing shingles can reduce your roof's temperature by as much as 20% in summer.
Its advanced colored granules mean that these shingles have an industry-leading solar reflectance value of over 40%. As this is two times more effective than a normal cool roof, you can double your energy savings. Let our roofers in St. Charles, MO install this cool roof to reduce the workload and costs of your air conditioning.
Gutter Protection
Your gutters have an important role in protecting your home from the weather. These help direct rainwater away from your roof and away from your home. If your gutters are clogged, your roof might develop leaks, and your foundation might become cracked. To prevent this from happening, make sure your gutter is completely functional.
Apart from being a preferred roofing contractor in St. Charles, MO, we also handle gutters. Before the autumn leaves start falling and debris starts piling up, install our Gutter Shelter™ gutter protection system. As it installs over your gutter, it will prevent leaves from entering, while still allowing water through. This cuts your gutter maintenance requirements. Come autumn, your gutters will be safe from clogging.
Vinyl Siding
Summer is also the perfect time to revitalize your home's look. Your siding is one of the most visible elements of your home's design; if it's old and worn down, it's time for an update. The sun will surely bring out the vivid colors of our selection.Howard Roofing & Home Improvements & Home Improvements installs vinyl siding, the most popular siding type in America today. It is beautiful, low-maintenance, and can be insulated for increased energy efficiency.
Howard Roofing & Home Improvements & Home Improvements has provided over 40 years of quality roofing and home improvement to residents of St. Charles and the surrounding areas. We always look out for our customers and only provide services that we know will make homes more wonderful. Give us a call to learn more about home improvement projects perfect for this summer.