Thermoplastic olefin, or TPO, is today's most popular solution for low-slope roofs. According to the National Roofing Contractor Association's latest survey, it has a 30% market share for re-roofing. Despite its novelty, discerning residential and commercial property owners have quickly recognized its amazing qualities.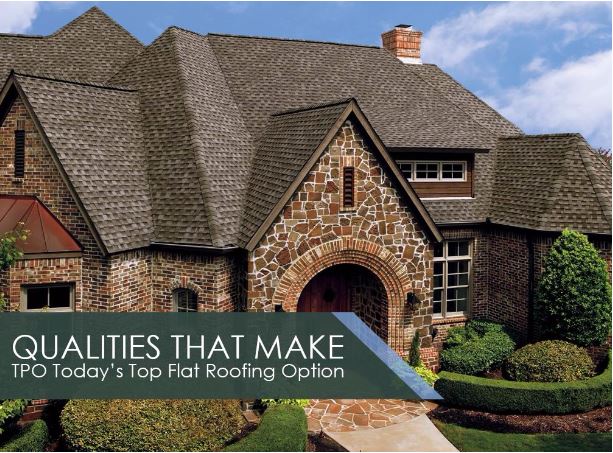 As the leader flat roofing in St. Louis, MO, Howard Roofing wants to shed light on the most desirable features of TPO. Here's what it brings to the table:
Tough
This single-ply membrane is resistant to weathering. Of course, they can't last forever, but they're the next best thing. They're resilient to dirt, algae, bacteria, or debris buildup, allowing them to perform over the long-term without compromise. In addition, TPO is extremely flexible, preserving its integrity with the property's movement and settling. It's insusceptible to punctures and tears and can endure impact.
It's a popular choice for residential and commercial roofing in St. Louis, MO, because of its exceptional strength. When hot air-welded, its seams are about four times better than other single-ply solutions on the market.
Energy-Efficient
Generally, experts consider TPO a cool roofing solution. Considering St. Louis can go up to 17°F hotter than its nearby rural areas, it makes a sound investment to lower your cooling costs. It reflects a considerable amount of the sun's heat, naturally keeping your indoor temperature from rising. In turn, it helps prevent your outdoor air from getting hot and make the city less of a heat island.
In addition, it can stand up against damaging ultraviolet rays. Other than fading, UV radiation accelerates the failure of polymers and other roofing components. As a result, unprotected roofs dry out and lose many years in their service lives.
If you choose TPO for commercial or residential roofing in St. Louis, MO, your property would have its natural protection against solar damage. Your roof would require less maintenance without losing its waterproofing properties prematurely.
Eco-Friendly
TPO is environmentally smart. Apart from its potential energy savings and benefits in slowing down climate effects, its membranes contain no hazardous chlorine. More importantly, they're 100% recyclable; environment-conscious companies reintroduce them to the manufacturing process. In other words, they can be reused, create no waste, and don't eventually end up in fast-congesting landfills.
TPO has yet to reach its technological maturity, so it only gets better by the day. Call Howard Roofing now at (636) 296-1057 to schedule your free, no-obligation consultation, and let's talk about your TPO roofing replacement.