A downspout is an important element of the gutter system that helps prevent soil from eroding, the basement from flooding and the foundation of the house from getting damaged. For this reason, it is crucial that the downspouts of your residential roofing remain in tip-top shape year-round. So, how can you tell if your downspouts are doing their job correctly?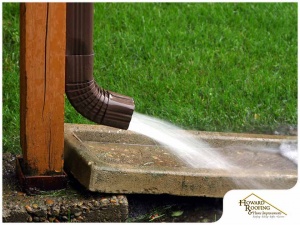 Is There Dampness on Your Siding?
Your siding is one of the components of your home that well-built gutters and downspouts protect. When checking to see if your downspouts are still in good condition, look at the current state of your siding. If you notice indications of dampness, like water stains or blistering paint, particularly near the foundation, it means that your downspouts are not functioning as well as they should.
Is There Mold on the Front Entrance Pathway?
If you notice mold and mildew growth around your home, especially on the front door walkway or near the downspout itself, there is a great chance that you are dealing with defective or damaged downspouts. If your downspouts are leaking or not able to funnel rainwater or melting snow into a drainage system, contact a roofing professional to fix the problem immediately.
Is There Pooling Water Near Your Downspouts?
Check for standing water near your garden's downspouts. If your downspouts are delivering water to the right place, you will not see any puddles or pooling water. On the flip side, if you notice that there is a bit of stagnant water, it is possible that your downspouts are in shabby condition and are in dire need of repair or replacement.
For top-rated roofing and gutter solutions in St. Louis, MO, and the surrounding cities, look no further than Howard Roofing & Home Improvements. Our certified residential and commercial roofing experts aim to provide the comfort and efficiency you deserve through industry-leading products and outstanding customer service. Call us today at (636) 251-5573 or fill out our contact form to request a free, no-obligation estimate.