An elegant and sophisticated home is a joy to come home to. That's why many people perform home improvement projects to upgrade their property's overall aesthetics, such as roof replacement. With CertainTeed's Belmont™ Luxury Shingles, your roofing contractor can turn your home into the toast of the neighborhood.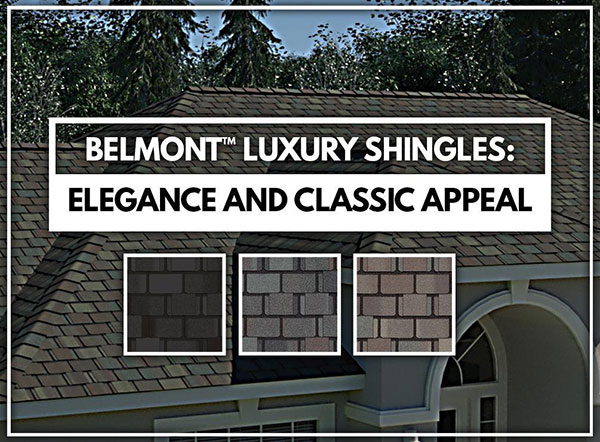 Here's a close look at the many features and benefits that set Belmont Luxury Shingles apart.
Inspiring Designs
With the classic look of slate, these masterfully crafted roofing options exude an inherent rustic appeal while giving the performance of dependable asphalt shingles. They are the ideal choice for homeowners looking to invest in roofing systems that perfectly balance appeal and functionality.
Engineering Strength
The Belmont Luxury Shingles are virtually maintenance free. They are also highly recommended by experienced roofers because of their dependability and ability to withstand high winds of 110 to 130 mph and turbulent weather. They are also backed by solid warranties so homeowners need not worry about expenses in the long run.
Stylish Performance
More than merely looking good, the Belmont Luxury Shingles boast an impressive class A fire resistance. Homeowners also have the option to choose from six dynamic colors all with the authentic dimension of classic natural slate roofing.
With Belmont by CertainTeed, luxury roofing is well within your reach. Make sure to ask your trusted contractor about it for your next roofing project. It's sure to provide your home with authentic dimensionality with functional benefits as well.
Howard Roofing & Home Improvements is the dependable name for quality roofing. We've been providing expert workmanship and superior roofing products since the mid-1960s. We serve various areas in Missouri, including, St. Charles, MO. Call us now at (636) 296-1057 to get a free estimate today.