DIY roofing projects, while admirable, can expose you to various issues. It's time to set aside your DIY roofing thoughts and let the experts handle it. Here's a look at why you should leave roofing to those who know it best.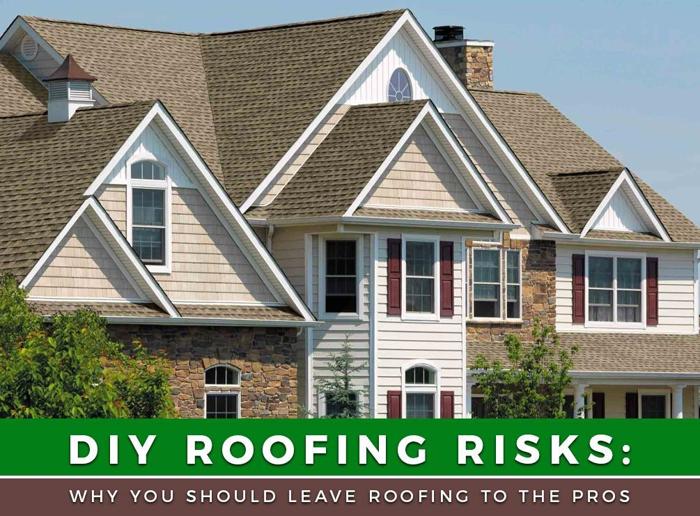 Expertise
There's a reason roofers like Howard Roofing and Home Improvements achieve expert status; we know roofing best. While it doesn't hurt to have a grasp of the basics of roofing, homeowners need to remember that roof repair projects are no easy task. It takes much training to fully understand complex roofing concepts.
Experience
More than the training they receive, professional roofers also gain a wealth of knowledge by spending time in their field. Through years of honing their skills one project after another, they gain invaluable insight as to which methods work best. This way, they provide the best and most efficient solutions to your roofing woes.
Dangers
DIY roof repair projects are commendable. However, the truth is you expose yourself to dangers when undertaking them. From falls to further damage to your already compromised roofing system, pro roofers have the necessary tools and skills to avoid untoward incidents. Don't put yourself at risk.
Cost Effectiveness
There's always the possibility of further compounding issues should you decide to take on repairs on your own. Experts do it best because not only do they provide superior workmanship, they use products that last. As a result, you won't need to worry about your roof succumbing to premature damage.
From fiberglass roofing shingles to asphalt shingle roofs, Howard Roofing and Home Improvements gives true value for your money. Since the mid-sixties, we've been helping local homeowners improve the beauty, comfort, and value of their homes. We serve various areas in Illinois, including Belleville, IL. Call us today at (636) 296-1057 and get a free quote.