Roofing systems are designed to be sturdy and weather-resistant, but they're not exactly invulnerable. Factors like improper installation and lack of maintenance can compromise the integrity of the system, resulting in problems that compromise its performance. Excess moisture is one of them–an issue that can lead to dry rot on your roofing when left unchecked. Howard Roofing & Home Improvements, the trusted roofing company in the area, shares more of what you need to know here.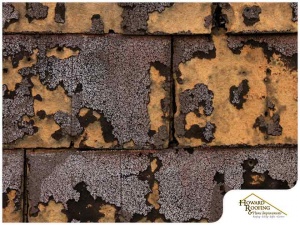 What is Dry Rot?
The fact is that the underside of your roofing system is a perfect breeding ground for dry rot. Most of the space is made of wood, and when warmth and excess moisture builds up in the space (with nowhere to escape) the risk of dry rot forming increases. Dry rot refers to a type of invasive fungi that can produce at an alarming rate once it has found a food source–mainly the wood rafters and posts of your roofing system. When overlooked, dry rot can weaken the roof structure and cause the system to fail.
Spotting Dry Rot on Roofing
How exactly do you tell if your roofing system has dry rot? You just need to look for the warning signs–which are fairly obvious–and once you do, call a trusted roofing contractor like Howard Roofing & Home Improvements immediately for the necessary solution. The indications of dry rot on your system are usually found in the:
Fascia board. If you have clogged or damaged gutters, water can seep into the fascia board and cause it to become cracked or discolored.

Roof deck. Rainwater can infiltrate openings created by damaged shingles and a compromised underlayment. Because the roof deck is exposed to moisture, dry rot may form on them. Check for water stains and discoloration.

Roof structure. This means the posts and rafters. You can gently prod the wood with a screwdriver, and if the wood flakes off easily, it may indicate that dry rot is already present.
You can deal with dry rot by having the source of the moisture patched or repaired. This helps prevent the issue from worsening, but it won't fix the areas dry rot has already affected. For this reason, it pays to consult a trusted local roofer, who'll recommend the most effective solution depending on the results of their assessment.
Call Us Today!
Howard Roofing & Home Improvements is one of the most trusted residential roofers in the area. Expect only the highest quality solutions when you choose us to handle your roofing needs. We proudly serve St. Louis, MO, and the surrounding areas. Call us today at (636) 296-1057 or fill out this contact form to schedule your roof evaluation.