Asphalt shingle is the most popular type of roofing in the US. Asphalt shingles are composed of small tiles with a waterproof base material; the tiles are covered with additional asphalt granules that give the material extra durability. The base material for asphalt shingles is felt paper or organic material, with newer versions using fiberglass mats (more on that later).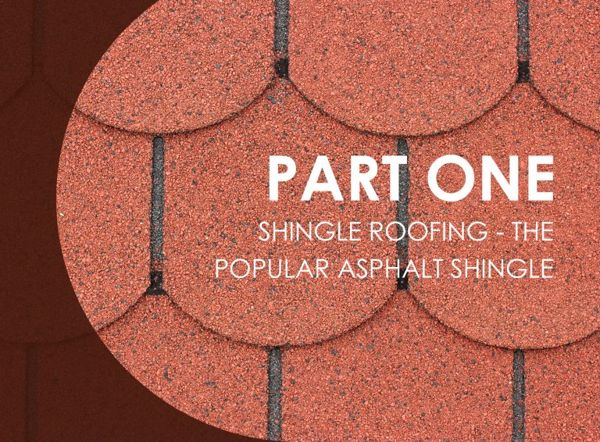 While fairly simple in terms of design, asphalt shingles are the most popular type of shingle roof for the following reasons:
Price – Easily its strongest point. Asphalt shingles are more affordable than most other roofing alternatives, which means it's the most accessible roof material for the average homeowner.
Ease of installation – Aside from being easy to install, asphalt shingles are the most commonly installed roofing material, which means almost any roofer you find will be capable of installing it properly.
Water damage resistance – Although far from being the most durable roofing option available, asphalt shingles are not vulnerable to rot or rust, which plague more expensive options such as wood and non-stainless steel.
Wind resistance – If installed according to manufacturer's specifications, asphalt shingle roofing provides excellent uplift resistance, which means it's not as likely to get blown away by the wind.
Fire resistance – Unlike wood, asphalt shingles do not burn easily, making it a safer option in fire- prone areas.
Lightweight – Asphalt shingles are light enough not to cause extra strain on the roof's support structure, increasing its lifespan.
Variety – Asphalt shingles are available in various colors, so there's always a shingle roof that will match any home's color scheme. Asphalt shingles can have natural shades for neutral themes, or even solid colors for something more dynamic.
Environmental impact – Shingles can be recycled at the end of their lifespan, reducing the amount of waste that ends up in landfills.
Do you know that there are two kinds of asphalt shingles available? Find out more about fiberglass and organic shingles in part 2 of this series.