The life span of your roof depends on a lot of different factors. For example, asphalt shingle roofs tend to last up to 20 to 30 years with good maintenance. Other materials, such as metals, tiles and even flat commercial roofing can last even longer. For the most part, it's easy to know when a roof has failed. Leaks occur more frequently and, sometimes, there are visible areas of disrepair on the roof itself.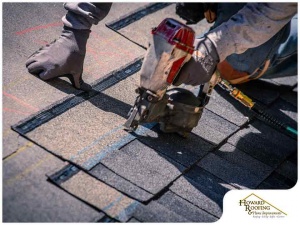 These types of major roofing issues typically happen as you surpass the roof's estimated service life. The years leading up to it, however, can be a little more tricky. During this time, minor problems may pop up here and there and you can continue to repair them. But how do you know when it's more practical to replace the roof than to repair all issues that suddenly appear? Our experts at Howard Roofing & Home Improvements share a few tips.
Check Its Actual Age
Let's get the most obvious answer out of the way. If your roofing system has exceeded its life expectancy, you should already have a budget in place for a replacement. Review your roofing documents to check when your last replacement was or, if that's not available, ask your roofer who may keep such files on their clients.
How Are Its Shingles?
Shingles are supposed to lay flat on the roof and should not be protruding in many different angles. There shouldn't be any visible signs of breaking or any missing shingles. Check the ground around your home for asphalt granules. Loss of granulation can be a sign that your roof is in dire need of replacement.
Flashing Problems
Sometimes, the problem is not in the shingles but in the flashing strips instead. Most of the time, faulty flashing strips can be taken cared of with regular roof repair. Otherwise, consult with your roofer if a replacement is needed.
At Howard Roofing & Home Improvements, we are your leading provider of roof repair, maintenance and replacement services. Give us a call at (636) 296-1057 or fill out our contact form to schedule a consultation and request a free estimate today. We serve homeowners in Belleville and other surrounding areas in IL.