According to roofing pros, the soffits are one of the most prominent parts of your home. This is because not only do they complete the overall look of your home by covering your eaves but they also provide your attic with passive ventilation, allowing it to breathe and keep your roof in good condition for a long time. However, your soffits can also be vulnerable and as such, you'll want to keep a close eye on them to determine if they have sustained any damage.
Here are the different soffit problems that you need to look out for.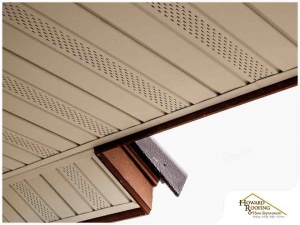 Pest Infestation
If you opt to install vented soffits in your home, one of the most common problems that you can experience is pest infestation. This is because vented soffits are manufactured to have small holes that provide proper air circulation to your attic and draw heat and moisture away from the house. Unfortunately, these same holes can also provide an entry point for pests to invade your home, and, as such, it's highly recommended that you have them inspected every now and then to prevent pest infestation.
For assistance in maintaining your soffits, look no further than the roof repair experts of Howard Roofing & Home Improvements to get the job done.
Water Damage
In addition to pest infestation, water damage is another problem that your soffits can face. Remember; the soffit is a part of your roof, so it's also susceptible to ice dams. If an ice dam forms on your soffits, it can force water inward and if the water is left unattended, it can cause various kinds of water damage to the soffits such as mold growth, cracking or even rotting. With that in mind, make it a point to take the necessary precautions to prevent ice dams from forming on your roof.
Planning to install brand new soffits in your home? Simply turn to Howard Roofing & Home Improvements. We are the number one service providers to approach when it comes to installing soffits and asphalt shingle roofs and you can count on us! Give us a call at (636) 296-1057 or fill out our contact form to request a free quote today. We serve homeowners in Belleville, IL, and other nearby areas.