Installed at the peak of a sloped roof, a ridge vent allows warm, damp air to escape from the attic to prevent moisture buildup. The low profile design of a ridge vent can fit under shingles so it can appear unnoticeable from the ground up. Most roofing experts agree that ridge vents are the most cost-effective roof vents on the market. Here are the crucial benefits of ridge vents: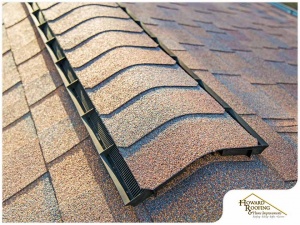 Better Airflow
A ridge vent possesses an air space beneath its design. This encourages sufficient airflow along the top of the roof. In general, airflow is essential for ensuring thermal comfort inside living space. A well-designed ridge vent also includes an interior weather filter and exterior baffle. The filter wards off insects, dust and other unwanted debris while the baffle generates pressure to pull air out of the attic.
Moreover, vents and soffits located under the eaves work with ridge vents to make sure air is moving properly. If warm, moist air comes in, it will be pulled out through the ridge vent.
Safe Living Space
According to a leading roofing contractor, your roof needs to be ventilated in order to prevent mold and mildew from reaching the area under the eaves and the attic crawl space. Warm, moisture-filled air can also lead to severe wood rot, which is often caused by a fungus that thrives in dark, damp environments.
You may also utilize a fan system to keep your attic and roof dry. Do not forget to install adequate insulation to minimize damage due to heat and moisture.
For top-rated roofing and siding replacement solutions in St. Charles, MO, and the surrounding cities, look no further than Howard Roofing & Home Improvements. Our certified roofers aim to provide the comfort and efficiency you deserve through industry-leading products and outstanding customer service. Call us today at (636) 251-5573 or fill out our contact form to request a free, no-obligation estimate.