When you reach a point where it's choosing between repairing your roof or replacing your roof, it is important to know how to get to the right answer or you could make an expensive mistake.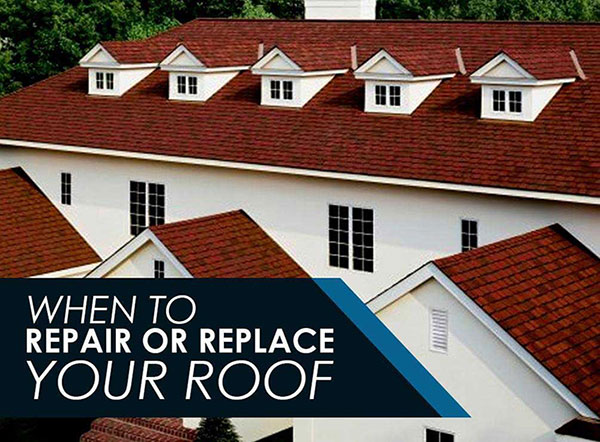 At Howard Roofing, we always recommend scheduling an immediate inspection the moment you notice any red flags. Timely repairs can suffice to fix issues, but are exceptions:
Shingle Problems
Curled, cracked, bald, and missing shingles are real causes for concern. Minor cases usually don't merit a new system yet, but consider replacing the whole thing when it begins to look more like a checkerboard than a roof. Adding the age factor into the equation, it might make more financial sense to buy a new roof rather than to continue to repair an already outdated roof that is in need of replacing.
Our company specializes in repairing and replacing asphalt shingle roofs in Belleville, IL. We're fully certified by leading brands, including GAF, Owens Corning, and CertainTeed. We can give you access to the most desirable shingle products and manufacturer's warranties on the market.
Attic Daylight
Sunlight passing through your roof boards are red flags. If light can enter your attic, so can other elements, such as water, snow, and air. No matter how negligible the hole or crack may look, call a pro quickly for inspection.
We'll perform a thorough evaluation to locate the problem and assess its severity. Our A rating from the BBB means you can rest assured that we'll provide you a reliable diagnosis and honest advice. We recommend a roof repair in Belleville, IL, for small leaks, but a replacement could be more reasonable when dealing with larger ones.
Sagging Roof
A sagging roof indicates a structural problem. On many occasions, it's a roof deck issue. This is a major red flag and at first sight you should take immediate steps to replace your roof. The first step is to call our team to take a look for a thorough inspection.
As the expert in residential and commercial roofing in Belleville, IL, we'll come to your rescue and give your roof the care it needs. Call Howard Roofing today at (636) 296-1057 and schedule your free, in-home consultation.