Earlier in this blog series, three-tab and architectural shingle styles were mentioned. What exactly are these two styles, and what makes them different from each other? Let's take a closer look at them.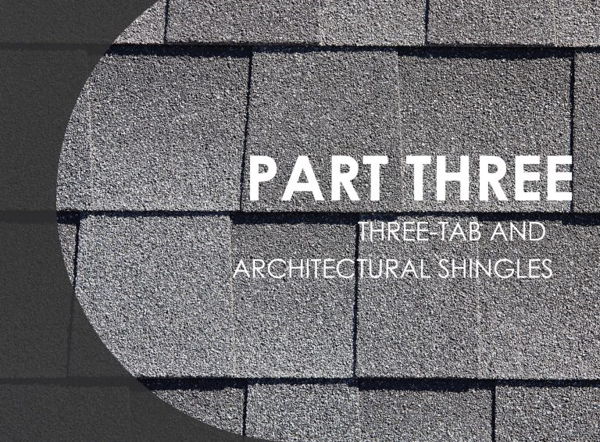 Three-tab shingles
Three-tab shingles are shingles that feature a uniform, flat surface. On the top edge of each shingle are three tabs (hence the name) that are designed to slip under the row of shingles right above it for a more water-resistant surface.
Architectural shingles
Also known as dimensional or laminate shingles, architectural shingles also have tabs on the top edge, but these can vary in terms of size and shape. This gives the architectural shingle a less uniform look, usually making the roof look like it's made of shakes.
Comparing three-tab shingles with architectural shingles
Aside from the obvious difference in looks, three-tab and architectural shingles also have different pros and cons, depending on their function and cost. For example, since three tab shingles are thinner than architectural shingles, they are lighter and easier to install. On the other hand, the extra thickness of architectural shingles gives them a bit more overall durability than three-tab shingles.
In terms of initial cost, three-tab shingles are much more affordable than architectural shingles. This makes them more suitable for homeowners with a limited budget. On the other hand, architectural shingles add more curb appeal and value to a home, making them a more preferable option if budget is not a problem.
While they are different in some ways, it's important to remember that asphalt shingles in general are both known as cost-efficient, low-maintenance alternatives to other roofing options.
That wraps up this three-part blog series on asphalt roofing. We hope this has given you a better idea of what to expect if you're planning to get asphalt shingle roofing for your home.