There are so many siding styles to choose from, and picking the right one for your home's overall design scheme is difficult. That's because your choice of siding style can actually make or break your home exterior's overall appearance. A particular siding style, like a board-and-batten, may look good on Ranch or Cottage style homes, but might not work well for contemporary homes.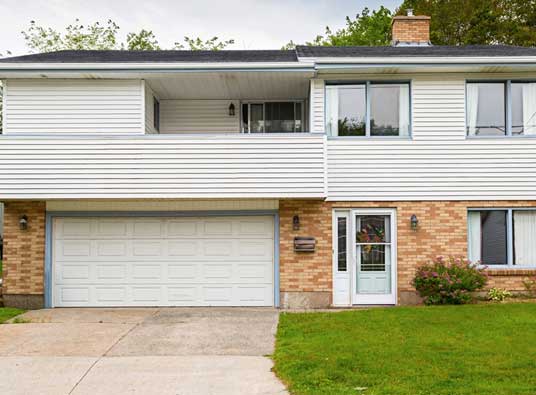 Howard Roofing & Home Improvements, the top experts on siding and roofing in Belleville, IL, suggests vinyl siding for your home.
Benefits of Choosing Vinyl Siding
Vinyl siding is among the most popular siding materials used today, as it's cost-effective and durable. It is actually one of the most durable siding materials as it can withstand high winds and resist heat, cold and moisture. In fact, it can sustain its toughness with minimal maintenance.
At Howard Roofing & Home Improvements, we understand that the siding is more than just an extra layer of protection for your home. It also plays an important part in your home's curb appeal. That's why vinyl siding comes in an array of profiles, colors, and textures. The best thing about vinyl siding is that it can be made to look like different siding materials, including some of these favorites:
Lap Boards – A traditional siding that will work well with classic homes.
Dutch Lap – A more decorative lap board siding variation, beveled for added depth perfect for Dutch Colonial homes.
Beaded – Has a half-round molding-like effect for that more elegant look on Southern Colonial and Victorian homes.
Scallops – A decorative siding with a rounded bottom and overlapping rows, great for Cape Cod and Victorian homes.
Shakes and Shingles – These can actually be used as a decorative accent on your home's façade. These will look beautiful on various home styles.
These styles are just some of the most popular siding styles today. There are so many more you can do to a vinyl siding, making it a versatile siding option.
So, if you're looking to upgrade your home's look this season, choose Howard Roofing & Home Improvements. We offer outstanding vinyl siding products from Owens Corning. We are also the most trusted siding installers in the region, as we ensure proper installation every time.
We offer other home improvement products and services, as well. These include windows, gutters, and asphalt shingle roofs in Belleville, IL and the neighboring communities. Clearly, we are your one-stop-shop when it comes to your home improvement projects.
Call us at (636) 333-1690 for all your roofing and home improvement needs.